Add heart-healthy habits to your routine as a starting point for improved health
Diet and exercise are a big part of managing your CV risk. Even simple, heart-healthy changes can make a difference. Choose a few tips below to add to your routine today.

Eat healthy.
As with most things in life, eating healthy comes down to preparation. Here are some useful tips whether you're home or on the go.
At home
Double the batch of a heart-healthy recipe and freeze additional servings for future meals
Combine leftovers—remember to keep tabs on portion sizes—to create new meals
Chop vegetables and prepare fruit to make convenient snack packs
At work
Eat lunch away from your desk to avoid "mindless eating"
Bring snacks with fiber and protein so you feel full longer, like unsalted nuts, Greek yogurt, or whole-grain crackers
Replace cream with milk or plant-based milk in your coffee. Also try lowering your sugar intake

At restaurants
Read the menu ahead of time. If you choose a less healthy option, plan to make healthier choices for the rest of the day
Ask for healthy substitutions or for items (like sauces) on the side
For big portions, request a to-go container and save half for tomorrow's dinner

Stay active.
Here are some tips to set some goals and get up and go. Remember, always talk to your doctor first before starting a new exercise routine.

Set yourself up for success
Make clear goals by planning "what," "when," "where," and "how long" for each activity
Set your phone to buzz when you've reached your target steps for the day
Remember: set reasonable expectations! Even a little more movement each day adds up
Switch up your routine
Try a group exercise class or an online workout
Add more movement to an everyday routine, like taking the stairs instead of the elevator
Join an organization or charity that hosts active events like walks or runs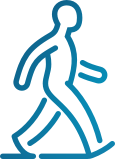 Find more time
Work with your doctor to determine how many minutes of activity to aim for per week, and break that into manageable time periods (even if it's only 10 minutes)
Make TV time active! Walk in place, do yoga, or lift weights while you watch
Exercise during the time of day when you have the most energy
Taking prescribed medications
Schedule when you'll take each of your medications, so you have a plan in place
Work taking your medications into an established routine. For example, take them every morning after you brush your teeth
Set reminders like a phone alert or fridge sticky note